Back to staff directory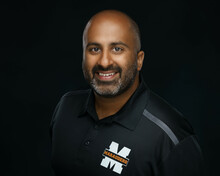 Principal
Phone: 780-790-1100
I love being a part of a school community that engages students in a positive learning environment that encourages academic success coupled with a rounded student experience. I've always considered our school to be a home away from home for both our students and our staff. I am both the Program Director for the PEAK Athletic Academy and Principal at our school.
I have both a Bachelor of Education and Bachelor of Physical Education degree from the University of Alberta. I have also completed my Master of Education degree from STFX University. I pursued a career in teaching because of my passion for developing meaningful relationships with students that I hope will in turn entice students to be more excited to come to school and learn.
As one of the few individuals who can say they were born and raised in Fort McMurray, I am proud to call this my home. Though my family has moved on from our amazing city, I have started a new life here with my wife, daughter and our fur babies. My interests are fairly simple with family, sports and traveling being at the forefront. I am actively involved in the community through various avenues, especially through my dedication to sport as both an athlete and a coach.
You can reach me at by sending me an email or by calling me here at the school (780) 790-1100.