Back to staff directory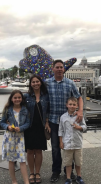 Secretary
Hi, am Natalie Scott. I am so happy to have joined the team here at Ecole McTavish school. For the past four years I have loved working for the Fort McMurray public school division at Dr. Clark school.
My husband, daughter, son and I moved back to Fort McMurray 10 years ago after having lived in Ladysmith, BC for 12 years. While I was on the island I attended Malaspina University and had an amazing 10 year career with the Chemainus First Nation Education Department.
Our family still enjoys spending our summers on Vancouver Island fishing, hiking the beaches, and unplugging for a couple of months with our super energetic Golden Retriever. I am a dog lover, hockey mom and soccer mom. Feel free to pop by the front desk at Ecole McTavish any time to say Hello. Thank you for your warm welcome.
Natalie