Back to staff directory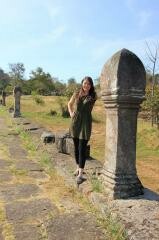 Math
My name is Alisha McDonald. I was born in Newfoundland but moved around a lot as a child because my father was in the military. I moved to Fort McMurray in 2008 and completed my Bachelor of Education at Keyano College through the University of Alberta. I have been teaching in the district since 2011.
I love food, coffee, nature, animals - especially pandas, and spending time with my family and friends. I also love playing volleyball, hiking, reading, anything art related, and road trips. I have an awesome dog and cat that I enjoy hanging out with at home. My lifelong passion is travelling, and I am always planning my next trip.
I love being a teacher. Every day is different and filled with new memories and learning experiences. The best feeling is helping a student accomplish something that they didn't think they were able to do at first.
I am excited to be teaching my two favourite subjects; Math and Science at McTavish.