Back to all posts
Posted on
News Release: McTavish ​Student Wins $100,000 Loran Scholarship - One of Only 30 in Canada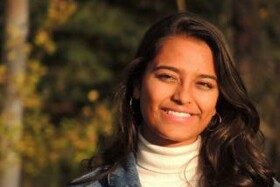 (Fort McMurray, AB, March 29, 2021) Tanisha Kadia has a new feather in her cap. The École McTavish High School student has won the prestigious $100,000 Loran Scholarship, the largest undergraduate award in Canada! She is one of only 30 students across the nation, who won the coveted honour; and was selected from over 6,000 applicants. Tanisha is the only student honoured from Fort McMurray. 
The award, which is given out over four years of undergraduate study includes mentorship and summer experiences. Tanisha, 17, who is in grade 12, had heard of the scholarship from former graduates who had applied, and winning has meant the world. 
"I am so grateful and honoured to have this opportunity. I am excited to share this news with everyone who has supported me. I owe much of who I am to this great region so I hope to make my community proud," enthused Tanisha, who is active in a number of school and community activities like band, theatre, Mayor's Advisory Council On Youth, and is the youngest writer for YMM Parent magazine, to name a few. 
Scott Barr, Principal, École McTavish says Tanisha is truly deserving of the scholarship.
"We are so proud to have Tanisha be named a Loran Scholar this year. This prestigious award is an amazing accomplishment for Tanisha and recognizes her as the well-rounded student she is. Whether acting as a lead in one of our productions, being in honour band, earning excellent marks, developing environmental programming at the school, and so much more, Tanisha is a change agent."
"She not only pushes herself to be the best she can, she wants the best for those around her. Tanisha is as excited about others' success as much as any of her own. As a member of our first group of six-year McTavish graduates, we know how proud she is of being a Marauder. Tanisha is a fantastic example of what being passionate in many areas can lead to. She has a bright future ahead of her and we look forward to watching her achieve even more!" Principal Barr said.
The exceptional young lady is currently deciding between neuroscience programs at the University of Alberta, University of British Columbia, and University of Toronto. And, also plans to further study politics and literature, with a plan to work in medicine or public health.
"My family and my school have been a beacon of light through these tough times. The sense of belonging I feel at École McTavish has truly changed the way I see the world. My experiences at McTavish have prepared me for future opportunities like the Loran Award. My parents and the McTavish staff have propelled me to learn and grow everyday, so I aim to give as much back to them as I can!" Tanisha adds. 
Jennifer Turner, Superintendent, FMPSD, congratulated Tanisha. 
"What an amazing accomplishment! Tanisha has made FMPSD, McTavish, Wood Buffalo, and Alberta proud. There is no limit to what this outstanding young lady can accomplish, and we look forward to hearing about many more of her successes."
Congratulations Tanisha! 
For more information, please contact:
Kiran Malik-Khan
Communications Manager
Fort McMurray Public School Division
kiran.malikkhan@fmpsd.ab.ca
W: 780-788-8009
C: 780-880-7666