Back to staff directory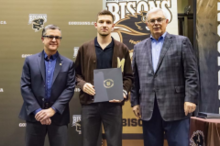 SH Computer Science, JH Phys. Ed.
Hello, my name is Conrad and I am excited to be starting my first full year at Ècole McTavish where I will be teaching high school math and science! Both subjects are deeply embedded into all of our everyday lives, and it is my goal as a teacher to help students understand and appreciate how each curriculum relates to their own unique professional, athletic and academic aspirations.

In addition to academics, I consider myself a life-long athlete. My love for physical activity developed during my childhood where I lived and explored multiple northern communities with my Indigenous step-family. I later formalized the physical literacy I gained throughout my upbringing in the form of track and field. I ran for the University of Manitoba's Bisons for five years, achieving Academic All-Canadian status and receiving the Canada West 2nd Team All-Star award for both the 4x800m and 4x400m. I believe the work ethic, resilience and empathy I have developed through these life experiences has helped me become the teacher I am today!